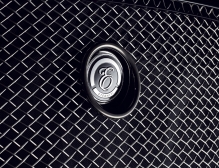 ETERNITI PRESENTS FIRST PRODUCTION VEHICLES OF WORLD'S FIRST SUPER-SUV IN SHANGHAI
8th April 2013
Eterniti Motors will be showcasing its production vehicles to the public for the first time at the Shanghai Auto Show 2013. Visitors to the stand can experience the full quality of the craftsmanship and finishes that go into every aspect of creating the Artemis: the world's first Super-SUV.

The company first revealed the design concept for its debut vehicle at the IAA in Frankfurt in 2011, and the Artemis was then presented as a working prototype in Beijing last year. This year, at the 2013 Shanghai Auto Exhibition, is the first time the production vehicle has been presented to the media and public.

Visitors to the show can find Eterniti Motors in Hall N1, Stand Number 16. Eterniti Motors' allocated press slot is 9:30 AM to 10:00 AM on Saturday 20th April.